CEO Greeting
HOME

>

COMPANY

>

CEO Greeting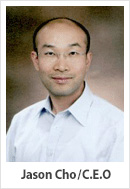 WELCOME TO UB Chem Co., Ltd
Based on the high technology of the environment-friendly water-borne adhesive, UBChem started to manufacture sticky mats (tacky mats) for removing bottom of shoes dirt and dust which is mainly used clean room of electronic, pharmaceutical, hospitals, laboratories and food industries in Sep 2004.

With a Willingness of 'To make our product being used effectively around the world' , we made the company name, UBChem, which is derived from the words of 'Ubiquitous' and 'Chemistry'.

Under 'ISO 9001', 'ISO14001' and 'IMS(Information Management System)', we're trying to the best to make the World-leading products. As a result, we came to the industry leader in clean room sticky mats (tacky mats) and carpet protection film manufacture and supply in Korea.

With the motto of 'Constant exertions for the better quality', we'll enhance our Customer Service and hear the client's even the smallest voice.

Thank you.